When you have several branches, retailers, franchises, or locations, it's easy to lose control of your brand marketing and budget. You might need some help to maximize the impact of your company's marketing through efficient lead generation, personal and relevant automated customer communication. Loopify and its easy-to-use tools help create various marketing campaigns for any occasion and stage of the customer journey, whether you want to attract, convert, or nurture customers.
With Loopify, you can share your resources and reduce costs while maintaining full control of your brand. Get to know this ridiculously fun and easy marketing automation tool!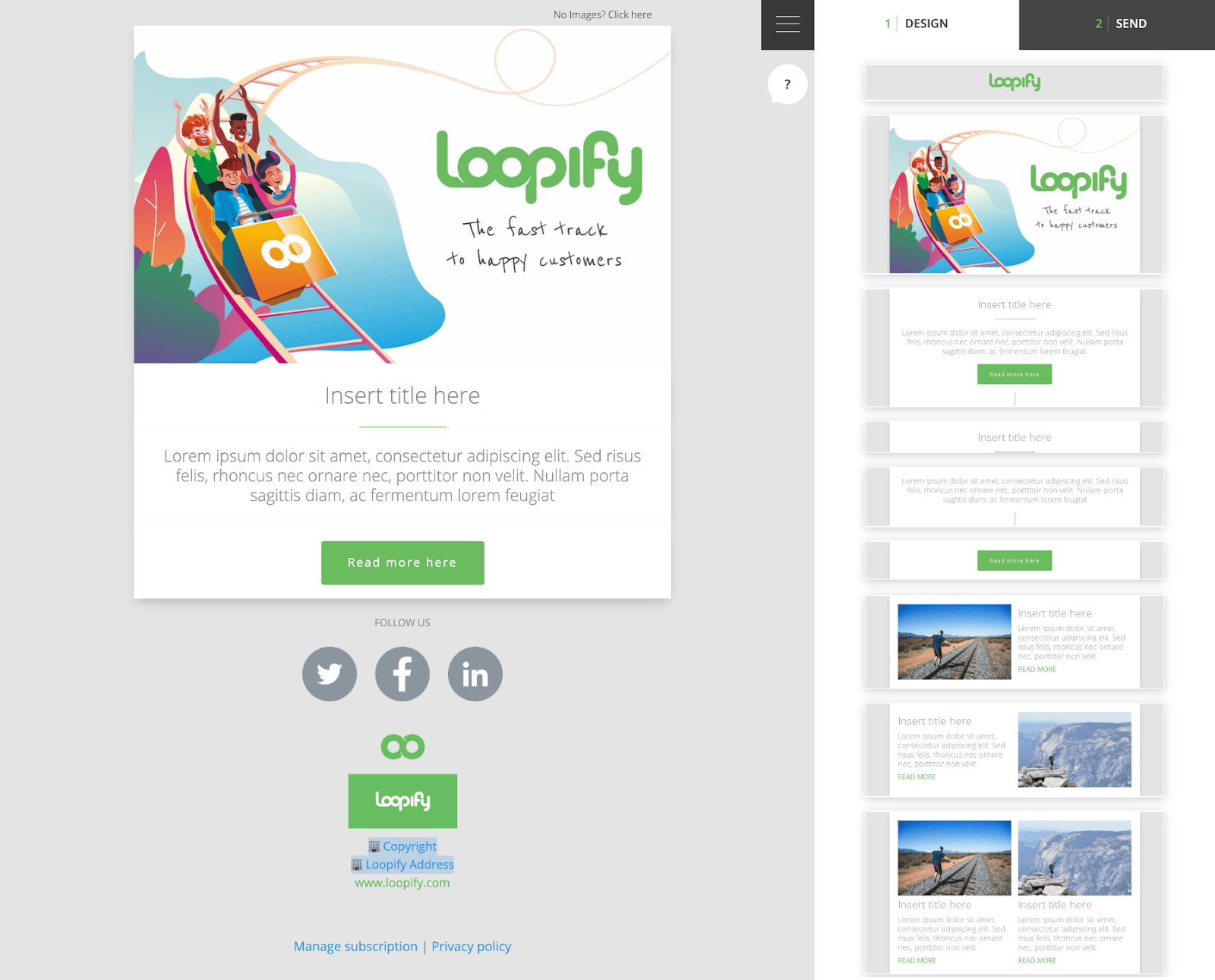 Make your team feel confident about the brand
The idea of Loopify is to keep things "so simple that even your boss could do it". You create the content and Loopify does the rest. Sometimes it might be a bit challenging to get everyone in the team to feel comfortable and confident that they're using the company's brand correctly. With Loopify you can choose which campaigns, templates, and images you want to share with your retailers. They can easily copy and use them in their communication with customers. You can work together to improve communication across different channels and watch your engagement and conversions increase. This way, everyone has the same guidelines and the teamwork will get to another level.
By making content and resources available for your retailers, you'll easily manage your cross-channel marketing and be consistent with messaging across channels. This will lead to better customer experience as well, which in turn will result in higher response rates.
Don't recreate something that's already been done once
If you want to have a quick and easy way to bring campaign distribution under control, use the same resources. This way there will be no inconsistent messaging and the results will improve. There is also a benefit that no one wastes time doing the same thing twice.
The increased volume of customer data and the number of privacy issues make it challenging for businesses to communicate successfully with the right customers
in a timely manner. With Loopify, you can reach customers on more than one channel. Combine emails, SMS, coupons, landing pages, letters, and postcards for the ultimate cross-channel experience.
Loopify helps businesses gather customer data legally, tailor the communication to reach the right person at the right time, and monitor the effectiveness and ROI of their digital marketing campaigns.
Save valuable time and avoid repetitive workloads
With Loopify you can have a single email campaign that will create hundreds of personalized versions of the email, with different email senders, images, links, and other retailer information, depending on the customer and which retailer they are connected to. You read it right, with only one single email campaign.
How is this possible? With Account collections. Account collection is a group of information (like email, phone number, name, address) about specific retailers, sales reps, and customer success reps. You use this info as variables in your emails and it changes depending on your contact. Because Account collections work as variables, they let you take your personalization up a notch.
This is a perfect solution if your business communicates with multiple retailers, branches or franchises for example. Account collection includes all the necessary information for your customers and makes the whole process of email campaigns a lot more easier and efficient.
Porsche Norway used Loopify to increase its event turnout by over 100%
Porsche Norway wanted to invite as many Porsche enthusiasts as possible to the grand opening of the new Porsche Center Asker & Bærum but still keep the balance and control of everything. The challenge was with space capacity and keeping track of event registrations.
With Loopify, Porsche Norway was able to create an automated campaign that handled the entire event invitation, registration, and attendance process. This turned out to be a successful solution since the event was the biggest opening of any Porsche Center in Norway with over 100% increase in event attendance. Read the full story of how the challenge was solved.
If you are interested in simplifying your ways to work with marketing and create more effective campaigns that follow your brand we recommend you to try Loopify!